The Electronics Lab is both a fun way to get started with building and programming electronics circuits and also to use a prototyping platform for your own creations. A series of instructional video's will be provided to step you through various projects and circuits that are designed to make learning fun: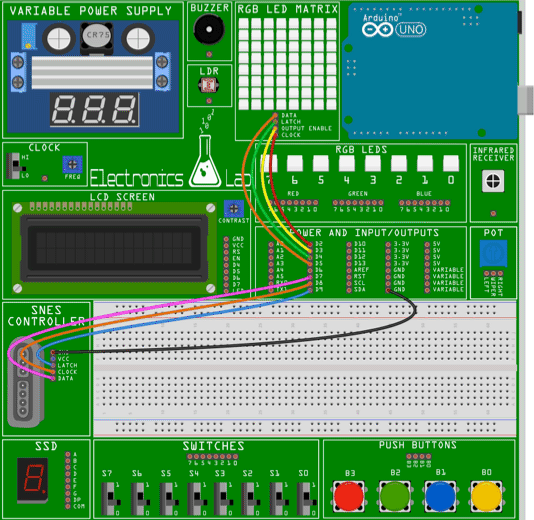 many of the projects revolve around building and programming some sort of game, in-fact, the Electronics Lab has a Super Nintendo Control Pad which is used to control a whole bunch of these games. Be sure to check out the video for just some of the projects which will be covered in the how-to video's:
Electronics Lab Features
Arduino Uno compatible microcontroller (or you can plug in your own)
Onboard Variable Power Supply
8×8 RGB LED Matrix Display
Piezo Buzzer
Light Dependant Resistor
SNES Control Pad Port
Electronics Breadboard
Seven Segment Display
Eight Toggle Switches
Four Colored Push Buttons
Microcontroller Breakout Headers
16 character x 2 line LCD Display
Eight RGB LED's
Potentiometer
Infrared Receiver
Infrared Remote Control
SNES Compatible Control Pad
Various Lengths of Hookup Wire
USB Cable
I plan on selling these through my Tindie store and possibly running a kickstarter campaign – I estimate the price for each kit which includes all you see in the top image would be $69USD.
For the foreseeable future, I will not be putting these into production. due to lack of interest and competing priorities.
This (like all of my projects) is open source and all design documents will be made available once I finalise the design. These documents will include:
PCB Design and Gerber files
Schematic Diagram
Bill of Materials
Project Video's
Source code (some source code is adapted from others code and this will therefore be released under their same license where applicable)
Fritzing version of the breadboard layout view
I'm still working on a few tweaks but let me know if anyone is interested in getting an Electronics Lab.