While this post is not about any electronic project that I have made, it is nonetheless interesting (well, I think so anyway).
The background story is that we are selling our house to move into a different house which needs some renovations done to it before we move in. We are trying to do all the renovations as cheaply as we can and have been purchasing things on ebay and as such, needed to drive quite a distance to pick them up. For this adventure, we needed to pickup a Gas Log Fire:
Twenty Boxes of Tiles:
And finally, A 5×4 metre Cabin:
The cabin was the tricky one since we needed to dismantle it before we could transport it. So with that little bit of context, let's check out what happened.
Thursday 10 November 2016
During my lunch break at work, I went and paid to hire a car trailer for our trip with the intention of picking it up that afternoon afterwork. The guy said he needed to replace one of the tyres since it had a slow leak. This would be done by the time I came to pick it up that afternoon. When I finished work, I went to pick up the trailer and he had completely forgotten about replacing the tyre and just told me to pump it up whenever required or to swap it with the spare tyre. That's not exactly the most desirable thing when preparing to travel a long distance.
Friday 11 November 2016
We set out from Wagga Wagga New South Wales at around 5am and headed for Bairnsdale Victoria. Which is a little over 7 hours away:
A few hours into the journey we had to stop to get some fuel and also to pump up the trailer tyre. Unfortunately though we managed to pick the smallest little corner service station possible and the trailer became stuck between the bowser and the building. But fortunately, after lots of trying – we got it free and were able to continue on our journey.
We arrived in Bairnesdale just before 1PM and I didn't realise the magnitude of the dismantling job for the cabin until I was standing in front of it.
We got to work and the roof was to come off first, I climbed up on to the roof and then nearly fell off straight away due to the steepness. We took off the colourbond roofing first:
Then the battens: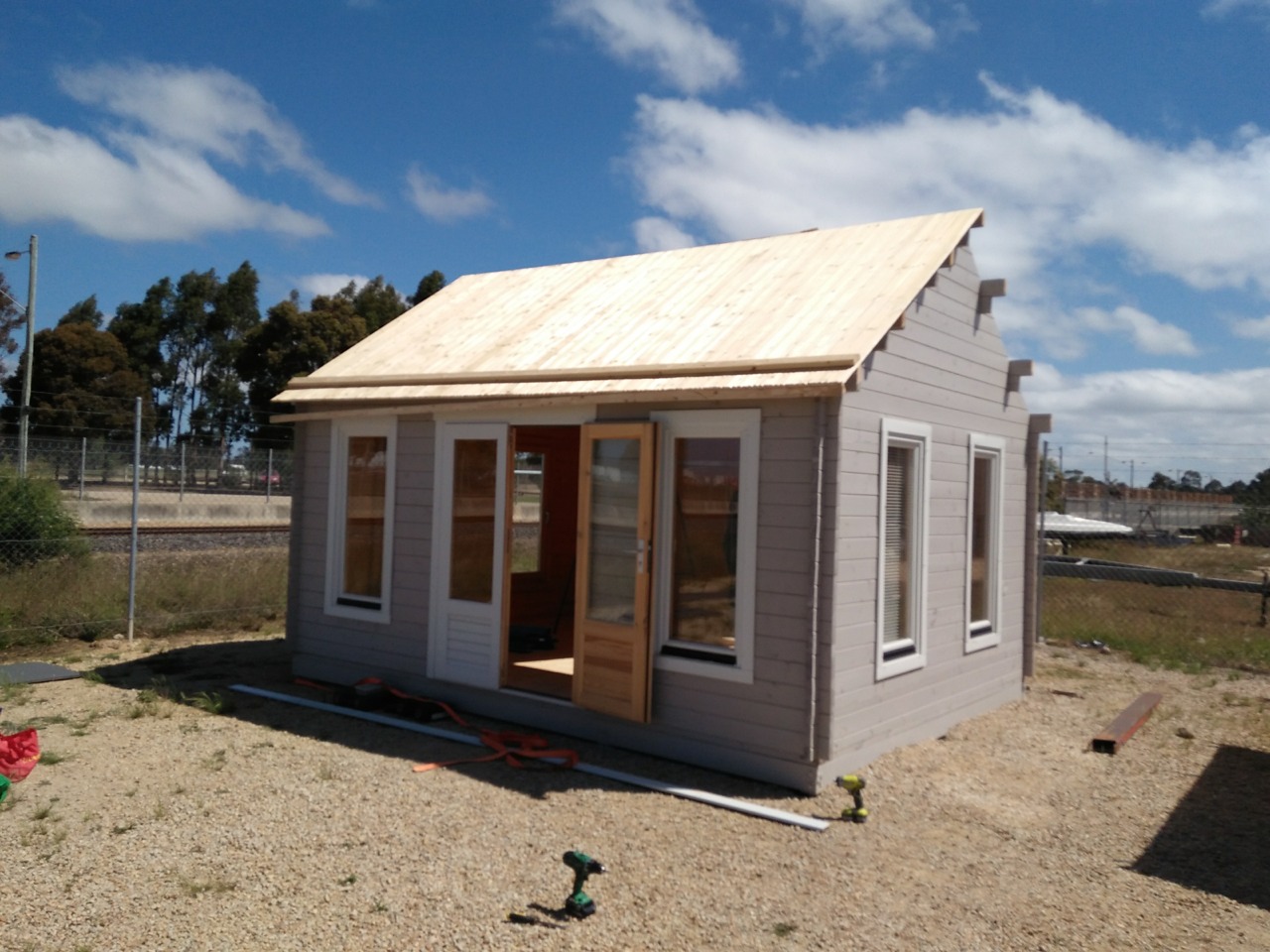 Then the Ceiling planks:
Then the beams
Then the gables
Then the windows and doors:
Then the walls:
And finally, the flooring:
It was all pulled down by about 8pm that night. It's a good thing it was daylight savings time so we still just had light left. It would have been finished at least 2 maybe 3 hours earlier if it hadn't been for a number of stripped screws that we couldn't get out and had to improvise with. We then spent the night in a motel.
Saturday 12 November 2016
We woke up around 6am and started to pack the trailer at about 6:30am. We spent about 5 hours very carefully loading it up, slotting each piece of wood together to make sure everything would fit: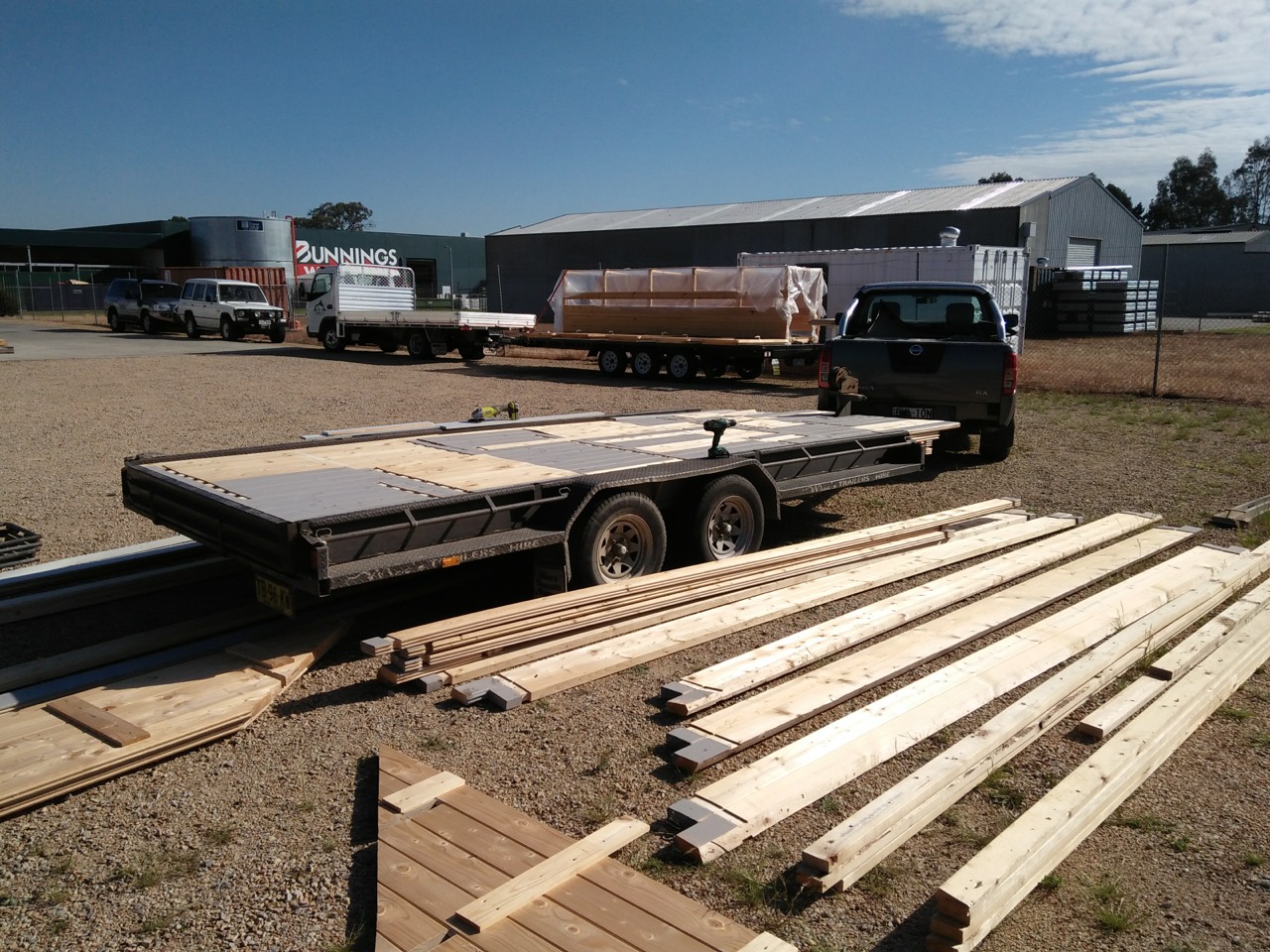 We then went to bunnings hardware store (which was across the road) to buy some ratchet tie down straps to make sure it all held down correctly for the long trip home.
We had to pump the tyre up again on the trailer and then headed for Emerald Victoria to pick up the gas log fire:
Unfortunately, we found that Emerald is right up in the hills, with very narrow windy roads. Not the place you want to be towing a loaded down car trailer:
Furthermore, the street we had to go to to pick up the gas log fire happened to be at the very end of town and was a steep narrow, gravel road. In order to get to the house, we had to unhook the trailer and then drive down the rest of the way:
Once we had picked up the gas log fire, we had to re-attach the trailer and then head to a service station to fill up with fuel and take a toilet break. Unfortunately we chose what I think is the only service station in Australia that doesn't have a toilet.
We then needed to go pick up the twenty boxes of tiles before heading home:
We managed to pick up the tiles and started on the . Unfortunately we had to drive through the heart of Melbourne during what seemed to be peak hour traffic!
This is where the trip turned really interesting. We were only two hours from home when a Koala decided it was a good idea to cross the highway:
We were travelling at 110kph and we swerved to the right to avoid it. We missed the koala but the trailer didn't like the sudden turn, we tried to correct it by pulling to the left again but the trailer had so much weight on it that it spun us around, we tried breaking but just ended up swinging around skidding as we went. We smashed into a huge tree at high speed – the air bags deployed and the cabin was completely filled with smoke. I looked over at Anthony and he was hunched over the steering wheel. I kept saying his name and he just moaned at me but he was alive. I had pain in my right leg but was able to get out of the car, walk around to his side and open his door. He had been hit in the back of the head by a metal section of the gas log fire that I had removed and put on the back seat. It didn't take him long to regain a sense of consciousness. The car now looked like this:
I sat down next to the car then, laid down just for a second, but passed out. I remember having some sort of a dream, then waking up looking up at the branches and it took me a while to remember that I had actually just been in a car crash. A car saw what had happened and they contacted emergency services who were there really quickly. Everyone was really helpful and were taken away to the hospital in Wangaratta. Unfortunately a lot of what was on the trailer flew off including the six windows and double doors. However not one piece of glass was smashed. The heater was thrown from the back of the ute and was mangled and the twenty boxes of tiles were scattered everywhere.
We had scans and x-rays at the hospital and were released the next day. The emergency services and tow truck driver all mentioned that they were surprised we were alive. Not only that, but I only ended up with a blood nose from the airbag, a sprained ankle, some sore ribs and some bruises here and there. Anthony mainly just needed some glue to help with the cut in his head. Due to its weight, the trailer prevented the ute from rolling and also helped to spin the car around the tree which means we didn't have a head on collision with the tree.
We went to the tow yard the next morning and took some pictures of the ute and trailer:
Unfortunately the tow truck crew broke the glass in the doors when towing to the tow yard. The cabin seems to be intact and we should be able to build it again. On the way back home to Wagga Wagga, we stopped off at the crash site and picked up all the unbroken tiles. We were able to get 13 square metres worth, which is just enough to tile the bathroom:
The cost of the crash
It seems that tow trucks charge a lot of money. Here is a break down of the costs of this crash:
$700 Car insurance Excess
$704 Tow back to Wangaratta for just the trailer (with contents) (the car was covered under insurance)
$920 Tow back to Wagga Wagga for the trailer and contents
$500 (estimated) to fix the trailer