Update 15 January 2020 – The Digirule 1A kit soldering video and PDF are available for download. You will find them at the bottom of this page (the kit instructions are included in the main download with all other files including schematic, PCB design, source code etc.)
The Digirule 1 and Digirule 1A are interactive binary PCB rulers that feature seven logic gates, four flip flops and a 4-bit binary counter. You can purchase a Digirule 1A from my Tindie store (when they are in stock):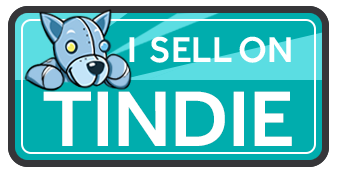 The Digirule 1 and 1A are completely open source. You can download all files including PCB layout, source code and BOM in the link at the bottom of this page. The Digirule 1 and 1A essentially do exactly the same thing however the Digirule 1A features improved buttons and improved firmware which has the old Swordfish Basic code ported over to C (by Brent Hauser) – Huge thanks Brent!
UPDATE: 30 December 2015 – Jaap has made a really cool DigiRule Java Simulator which you can check out in the link below. You can check it out HERE.
The DigiRule 1 and 1A are 15cm (6″) rulers with which are marked in binary digits rather than decimal. The built-in functions are as follows:
Logic Gates
NOT Gate (Inverter)

OR Gate

AND Gate

XOR Gate

NOR Gate

NAND Gate

XNOR Gate
Flip Flops
SR Flip Flop

JK Flip Flop

Toggle Flip Flop

Data Flip Flop
Four bit binary up/down counter
It is powered by a single 3V CR2032 button battery and the brains of the unit is a PIC 18F45K20 microcontroller (which is a greatly over-powered device for such a simple task – but they are cheap!)  The functions listed above are controlled by nine surface mount push buttons and has twenty three surface mount LED's to show the status of the inputs and outputs. The rear of the ruler contains logic gate and flip flop truth tables, a binary conversion chart, a few select SMD component footprints and some drill hole sizes.
The figure below shows the front and rear of the original Digirule 1: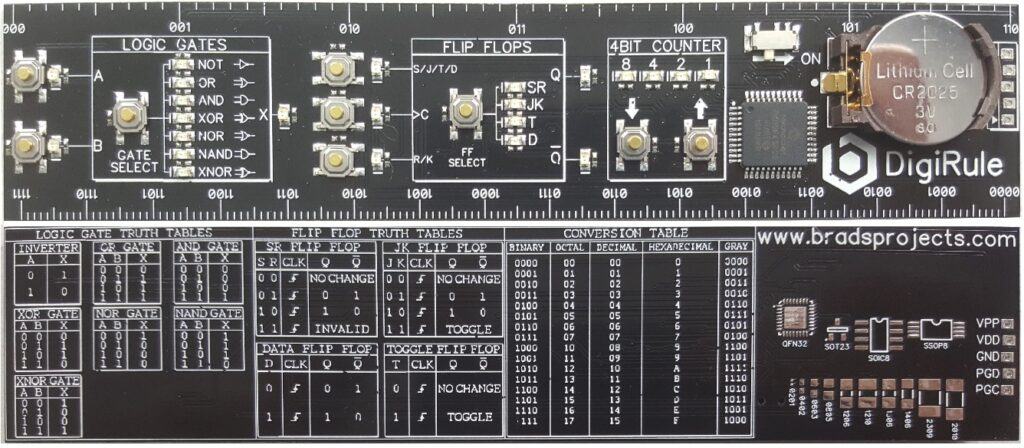 The figure below shows the front and rear of the Digirule 1A (notice the improved buttons):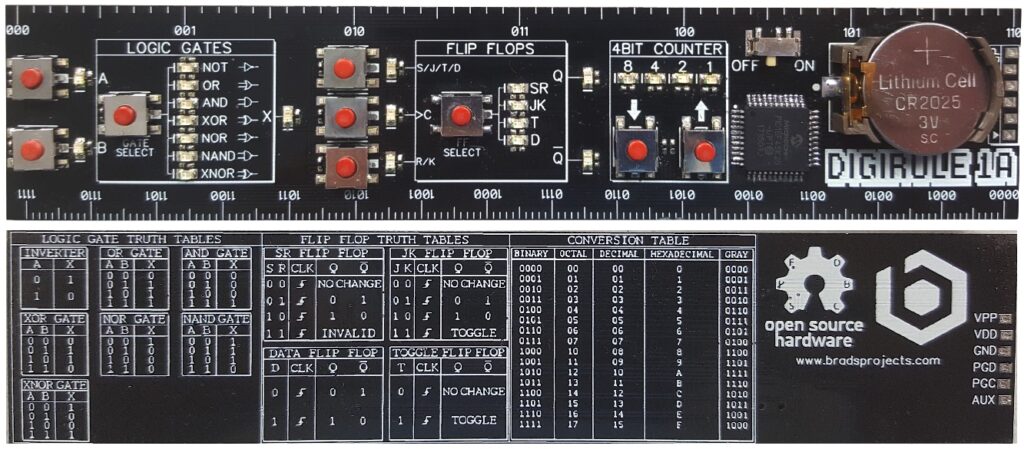 Check out the youtube video for a demonstration:
Soldering Kit Instructional Video:

Click below to download the DigiRule 1A archive (This includes bill of materials, DIPTRACE PCB design and schematic files, PDF schematic, firmware, source code and User Manual and soldering kit instructions.
Digirule 1A Files (1481 downloads)